game - Google News
Google News
Game 2: Backstrom scores in double overtime; Capitals beat Bruins, 2-1 - Washington Post (blog)
Apr 15th 2012, 03:38
Faceoff: 3 p.m., TD Garden
TV: NBC | Radio: 1500 AM
Postgame coverage:
— Backstrom lifts Capitals in double overtime
— Lack of offensive production frustrates Bruins
— Interactive graphic: Capitals-Bruins shot chart
— Photo gallery: Scenes from Game 2 at TD Garden
— Backstrom laughs off punch from Thomas
— Holtby stays composed in second playoff game
(Jonathan Newton - WASHINGTON POST) 2:56 2OT: Nicklas Backstrom, in his sixth game back from a concussion, wins it in double overtime to send this series to D.C. tied. Braden Holtby finishes with 43 saves and now leads all playoff goalies in save percentage (.973) and goals against average (0.83).
See Backstrom's game winner after the jump:
Since 2006, teams that win Game 2 have gone on to win the series 69 percent of the time. Numbers aside, though, the Caps have the momentum as they head home to what should be a raucous Verizon Center.
Gotta run, but stay tuned for much more to come on this game. Thanks for joining us, and see you Monday for Game 3.
Intermission: Great observation here from Ted Starkey of the Washington Times: In 120 minutes, Pens and Flyers have 20 goals. In 141:18, Caps and Bruins have 3.
Neil: Another close one for scoring chances. Caps 6, Boston 5 in OT1. Four different Washington players had chances, led by Semin (2).
End of 1st OT: Ughhh.
Ahem. I mean, second overtime is coming up. This game could have been over a couple times already if not for Thomas. He's good — at keeping pucks out of his net (he stoned Jay Beagle, who had the best chance of the period) and at not getting called for penalties (he kicked Brouwer in front of the net).
13:18, OT: The Caps are buzzing — lots of good chances. Thomas, though, is giving up nothing. Both teams have seven shots this frame.
5:36 OT: Was that Alex Semin who just put himself between the net and a Chara slapshot? Debate over; he cares.
By the way, via @JapersRink, here's Thomas vs. Backstrom.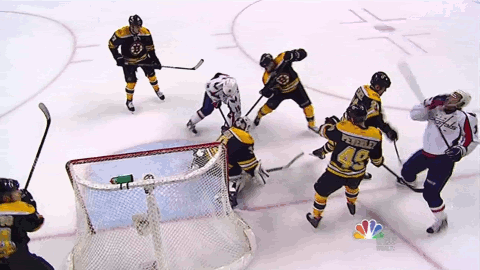 End of regulation: Going to overtime. Is this going to be a thing in this series? Yes. Yes it is. OT game winner guesses? Throw them out in the comments. I'm going with Brooks Laich.
Disclaimer

This is a non-scientific user poll. Results are not statistically valid and cannot be assumed to reflect the views of Washington Post users as a group or the general population.
Neil: Final chances for regulation: Caps 14, Bruins 14. Ovechkin leads the team so far with 4.
17:34 3rd: Tim Thomas just slugged Backstrom in the head and Krejci took him down after the whistle. No call, even though Holtby got a penalty for pushing Kelly in Game 1. That ain't right.
12:13 3rd: Ill-timed update below. Pouliot ties it up at 1 on a backhand after Holtby went for the poke check and missed.
11:42 3rd: Holtby is making some monster stops. For the Arrested Development fans in the house, STEVE HOLT[BY]! Bruins up 26-25 in shots; 29-23 in hits.
Neil: Boston doesn't get their first 3rd period scoring chance until just 11:50 left. Expect a Bruins flurry as the time ticks down
4:00 3rd: Tarik: Ovechkin has found that fine line between being physical and creating offense. Much better hit to shots ratio. Right now, he's got two hits, three shots on net and five attempts. The captain is having a strong game.
Lindsay: He's also already played 16:48 in this game, compared to 17:34 total in Game 1.
2nd intermission: Tarik: On Friday, the Caps talked about the need for more shots and traffic in front of Thomas. Well, they've accomplished both through first 40 minutes and lead 1-0. Thomas doesn't like opposing players in his crease; the Caps (Laich, especially) have ventured there often.
2nd intermission: From Neil: Chances were 6-6 the second but Brouwer's first scoring chance of the series is the difference so far. If Caps keep crashing the net more good things will happen.
End of 2nd: I think Bergeron sees a smudge on Backstrom's visor and is trying to help him clean it off. What a nice, upstanding young man.
17:57 2nd: Brouwer punches in a rebound and gives the Caps their first goal of the series just before 100 minutes have passed. 1-0 Caps.
13:20 2nd: Caps get a third shot at the power play thanks to a Marchand high stick on Carlson, but no dice. They're 0 for 5 now in this series.
8:06 2nd: Tarik points out that the Bruins have had more shots blocked (11) and miss the net (5) than shots on Holtby (15).
5:45 2nd: Tarik: Braden Holtby continues to impress. Looks calm and in control. His save on the PP on Bergeron was spectacular one. Just one complaint: He should be fined every time he overhandles the puck.
4:03 2nd: Jeff Schultz should be the new spokesmodel for mandatory visors. His was all that separated him from a Chara shot to the head.
1:54 2nd: Tough break for the Caps, who head back to the PK as Hamrlik is called for cross-checking.
1st intermission: Tarik: The Caps were much better in the faceoff circle in first period today. They won 12 of their 18 draws, led by Nicklas Backstrom, who won 4 of 5. Winning faceoffs = more possession = more shots. Now, if they could just get a puck past Tim Thomas.
1st intermision: Important update from Katie: For those not keeping track at home, the Capitals have now played 81 minutes 18 seconds of playoff hockey without a goal.
End of 1st: And this period ends much like the first did in Game 1, with one notable exception: The Caps have nine shots on goal, two more than their total through 40 minutes on Thursday. Holtby with 10 stops.
Mike Milbury notes on NBC that Ovechkin should have done something at the end of the period when Marchand whacked Holtby with his stick. Agreed, though it seems like Holtby can hold his own just fine.
Neil: Caps lead in chances 5-3 in the first. Ovechkin has three, Laich and Beagle each have one. Caps had just two scoring chances over the first two periods of Game 1.
19:26 1st: Tarik: If the Caps' power play continues to sputter, I'd like to make a suggestion: Put Joel Ward in front of the net. Hey, it worked in Nashville.
17:27 1st: Katie: Caps' two power-play opportunities this period were polar opposites. First one, early on they had five shots against Tim Thomas, plenty of traffic and zone time. The second one, when Chris Kelly was called for hooking, the unit relapsed into dysfunction. They had to chase the puck deep in their own zone a handful of times only took one shot — but gave up another on a key chance for Brad Marchand.
The Caps need to find a way to make the power play a factor again. For a team struggling to find any type of offense, they need any edge they can get.
15:00 1st: Tarik: Ovi seems more focused on creating offense today and less interested in running around hitting. Already has two shots and two missed attempts -- twice his output in Game 1.
12:35 1st: And now the Caps go back on the man advantage after Backstrom draws a hook from Kelly. Let's see if they can crack Thomas this time.
12:00 1st: The Bruins are now 0-for-5 on the power play in this series. Only Chara was able to get a shot off; both Alzner and Carlson with blocks.
9:52 1st: Caps head to the PK; Mike Green for hooking Pouliot.
6:34 1st: Some shaky puck-handling there by Holtby. Early jitters, perhaps?
4:00 1st: Update from stats guru Neil Greenberg: Ovi has two scoring chances in games first four minutes. Had none in Game 1.
3:30 1st: No goal but the Caps had a lot of good chances and are showing some intensity early on, taking five shots on Tim Thomas in that power play. Five shots, by the way, matches their total in the first frame of Game 1.
1:13 1st: Ovechkin draws a penalty early on a breakaway; Chara whistled for holding. Certainly a good start.
3:09 p.m.: Reader yesisaiditfirst notes that ex-Caps coach Bruce Boudreau is in studio for Hockey Night in Canada's broadcast of this game. If anyone's watching, let us know if — who am I kidding, when — he says anything good.
2:48 p.m.: Here's the Caps' lineup for Game 2:
Forwards Ovechkin-Laich-Brouwer Johansson-Backstrom-Semin Chimera-Beagle-Hendricks Aucoin-Perreault-Ward
Defense
Alzner-Carlson Hamrlik-Green Schultz-Wideman
Goalies
Holtby
Sabourin
2:36 p.m.: By the way, really looking forward to seeing Braden Holtby in his second NHL playoff game. His 29-save performance was without a doubt the silver lining in Thursday's loss. If he can replicate that showing — and the rest of the team helps him out by a) spending about half as much time on the PK and b) generating some offense — it would go a long way toward a win.
Those are some big ifs, but for his part, Holtby is confident. He's also not giving in to the Bruins' attempts to rattle him. "That's my crease," he said this morning of the roughing penalty he took in Game 1. "I don't really like to let anyone in there because I want to fight as hard as I can to find the puck. It was a pretty reactive play."
That's exactly how I feel during morning rush hour on the Metro.
2:10 p.m.: Greetings. We've got about an hour until Game 2, when the Caps will try to even this series up at one apiece in Boston. A win would certainly help Washington's chances of escaping the first round; teams that lose the first two games in a best-of-seven series have only come back to win 12.7 percent of the time.
Of course, the current incarnation of the Caps has been involved in two of those series: the quarterfinals in 2009, when they beat the Rangers in seven games; and the semifinals the same year, when they went up 2-0 at home only to fall to the Penguins in Game 7.
Regardless of the outcome, I'm hoping for something a little more exciting today. Something a little bit like this Philadelphia-Pittsburgh series, perhaps? Seems like the Caps agree.
I'll be back once the puck drops with updates and Katie and Tarik will be chiming in here, too. In the meantime, comments are open as usual.
Follow us: @kcarrera | @TarikElBashir | @ngreenberg | @lindsapple
This entry passed through the Full-Text RSS service — if this is your content and you're reading it on someone else's site, please read the FAQ at fivefilters.org/content-only/faq.php#publishers. Five Filters recommends: Donate to Wikileaks.